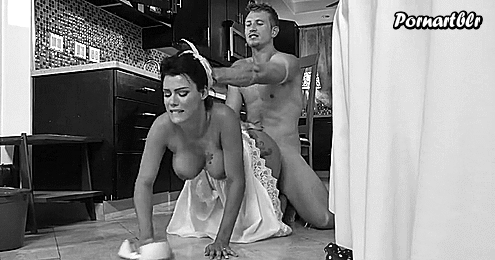 Smiling down at you, so happy you trust me as I tie your left hand down at the corner of the big table where you spend so many hours creating your art. "Done," I say, now that you are at my mercy, I lick my lips in anticipation for what I have in mind for you.
Liking how you bite your lip as I take the mixing bowl in my right hand and a large spatula in my left, your eyes watching my every movement. I gaze down your naked body, watching your breasts rise and fall with your quickened breathing, your ribs leading down to your fit tummy, the curves of your hipbones indicating the trail to your center of pleasure. "Freshly shaved," I smile, "I'm glad you prepped for me,"
I let the spatula tease across your labia. Already your essence leaks from you; I smear the frosting and pussy dew up and down your center, and then bring it to my lips, licking the white plastic lewdly. "My favorite frosting flavor," I say, looking up at you again, getting lost in your gorgeous eyes. Without a moment to lose I slowly pour the sugary mess of frosting onto your bare, smooth skin, starting at your left hipbone, making a thin trail across your mons as I giggle at your reaction. I make a weaving road over your belly button, a ragged trail over your ribs before the stream splits, making a serpentine bra of drizzled frosting on each breast. A meandering circle stopping at the peak of each hard nipple, "Yum," I shiver, before starting the line again between your breasts, curling the line up your neck and chin. I allow the frosting to stop dripping on your lips, so full and lush, I stop, having to kiss you now, kiss you hard, smearing the frosting between our nearly warring mouths, tongues urgently slurping and tasting each other!
Setting the frosting bowl and spatula down, I begin kissing and licking the frosting off your chin and cheek, loving how your groans of pleasure and frustration mix with my own growls of delight as I suck at the pool of frosting in the hollow of your throat. Licking and slurping I clean you up best I can, only stopping to look over the counter, ensuring there's no customers Bostancı Escort waiting at the door. The frosting compliments your sweet and clean taste, your hint of perfume in your cleavage making my own panties damp beneath my skirt and apron.
Eagerly I clean each of your pert breasts, following my circular trail to the aching, glazed points that top them, using my teeth to rub the sugar from the deeply crinkled nipples that you seem to enjoy teasing me with every day and every night!
Sighing, I leave your flushed breasts, loving how you involuntarily suck in your tummy as my lips and tongue wander your ribs before sinking into the miniature pit of your belly button. Taking a breath my gaze goes from your clenching toes, up past your firm thighs and diamond hard nipples to your hands, fingers tight into fists before relaxing, I have to smile as I can smell your arousal, "You must be so wet," I say, my face glazed with the thin frosting! Quickly my head moves around and down your torso, your sensitive skin on your hips tasting even more wonderful then I remember, my hand gliding up and down your leg, feeling it tighten and loosen as my mouth begins the home stretch towards your frosted clit and labia! Stopping finally, I remove the apron and skirt, my camisole quickly also joining the pile of clothes on the chair before I climb onto the sturdy table between your outstretched legs. I kneel and pinch my nipples for you, "I love this," I admit to you.
Resting my hands on either thigh, I place a hard kiss on your clitoris, the frosting making for hard but delightful work to clear if off, your moans so loud, I have to check over the counter again, but only passersby do I see, and none peer into the store.
Flattening my tongue out, I slowly pull it up your frosted labia, the frosting even thinner as I realize there is a pool of frosting and your essence on the table beneath your bum! "Poor baby," I grin, "Let me clean you all up!" I suck each of your labia hard into my mouth, your skin so smooth, so warm and fleshy between my Bostancı Escort Bayan lips.
"You have to try this!" I say, dabbing my fingers into the pool of frosting and juices before leaning up across you and feeding them into your mouth, my body trembling as your mouth wraps hard around them, sucking them better than any appliance known to man. My fingers begin dancing again over your bottom, clit to labia to your bum, slow and gentle, then harder and harder, quickly the pads of my fingers are soaked with your ambrosia! I offer more of the syrupy mess to your hungry lips; I have to laugh through my growing lust as I pull my fingers from your mouth with an effort. The saliva on my fingers mixes well with your juices; suddenly I have two fingers pushed as deep as I can into you, your pussy gripping and sucking on them almost as powerfully as your mouth had moments before! I drop prone on the table and as my fingers revel in your wet passage, I suck hard on your hooded clit, tongue working it incessantly, your moans turning to yells as I feel and hear your desire build. I just slurp and finger you more, wanting to cleanse the sweet frosting from my palette with the sweetness that only you can provide.
My breasts warm against the still cool table as I make sweet hot love to you with my mouth and hands, my fingers probing your pussy, but soon enough your puckered star as well. On and on I go, mouthing sweet sexy lustful thoughts against your clitoris and swollen labia until you arch yourself against my mouth and have your first hard cum! I stop pleasuring you so firmly, only caressing your bottom with my hands for a moment so you catch your breath.
Reaching for the spatula, I hold up the handle, "Hmm, I think this will do!" I groan, rubbing the handle of the spatula against my panty clad pussy first, "You are going to like this so much." The handle was soon damp, so without much ado, I turn and push it into your hot wetness; a naughty grin crossing my face as you groan and shake despite your bound legs and arms. Over and over I inch Escort Bostancı the long handle into you, biting my lip, pinching my own nipples as my desire rises.
Thinking this would help, as I pumped the spatula into your welcoming heat, I untie first your left leg, then your right, giggling at how quick you tried to capture my body between them. The handle long, hard, and ridged, "that must feel so good," I groan, capturing your mouth with mine as I delve it into you over and over. I straddle one of your legs, your thigh immediately slamming up against my aching clit and swollen labia, I feel the squish of wet panties; "I must have wet myself!" I laugh against your mouth. My shaking body making the spatula handle probe your wet tightness with full strokes of pleasure, but my own desire needing more than your firm thigh, I climb off you, and leaving the spatula buried to its head inside your pussy, I push my panties down my legs, the crotch sticking to me for a scant second.
Peering again over the counter to check, "Nope, no customers," I murmur as I climb again onto the table, but this time lowering my shaven pussy onto your mouth, your tongue slathering me with your intense love, I push down against your face harder, my clit throbbing, my pussy drooling like I've never felt, a shaking hand grabbing the spatula to continue the blistering fuck its makers never dreamed of as a potential use. The bakery is quiet except for our moans and groans, although your mouth makes a deliciously wet slurping against my bottom, I begin rubbing your clit with my free hand, needing you to cum for me, delighting in the position of power I have over you, though I notice the silk scarves around your wrists are beginning to stretch.
Unable to contain myself, I arch up, crushing my petal soft labia to your mouth, feeling your nose push against my bum, the spatula gyrating around as you thrash your hips, your toes curling, my hands on your breasts, torturing your nipples as I cum, letting loose a shriek that could be heard for two blocks I am sure.
Climbing from your talented mouth, I kiss you hard and deep, tasting myself on your tongue, my hand going to the spatula handle and giving you quick hard pumps to bring you to your own delightful conclusion! I untie your hands and fall into your embrace, kissing and hugging you close.
I whisper into your ear, "Now about that birthday cake!"