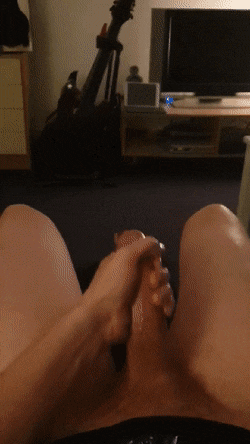 An outdoor encounter
A few fields across from where I lived there was a stretch of old railway track a couple of miles long. All the rails and sleepers had been removed years before leaving a wide path which could be accessed from a country lane. There was a narrow strip of trees on both sides and the track went through several cuttings. This was a regular route for me to take for either a short bike ride or to walk the dogs. I found the wooded strips ideal to walk in naked and I liked to climb the side of the cuttings and masturbate in the bushes hidden from any by passers-by below.
I was out early one morning exercising the dogs. I was horny and looking to have a nice wank. I crossed the fields, got onto the old track, and walked along rubbing my hard on through my jeans. Then, up ahead, I saw a parked car facing me. As I got closer I could see two pink blobs showing through the windscreen. I noticed that they were moving slowly. As I got closer I realised that they were the soles of two feet wearing big fluffy socks pressed against the glass. My two dogs had chased off after something and everything was quiet except for the sounds coming from the car. I went into the trees and crept closer. When I was level with the car I could see through the open window. A guy was sitting in the tilted passenger seat with a girl sitting on his lap facing forward her hands on his thighs with her legs bent and feet on the dash. In that restrictive position they were obviously not moving much but the grunts of the guy and whimpers coming from the girl showed they were definitely having a good time. My cock was soon in my hand. I was so stiff. I began stroking as I took in the view. Just then my dogs returned and made a disturbance as they crashed through the bushes looking for me. The girl stopped her movements, turned her head and … looked directly at me! In my excitement I had carelessly not stayed properly hidden. I saw her lips move as she said something to the guy who turned to look at me. I froze. I was just about to run when the girl called to me "why don't you come over for a better look". I hesitated for a moment then crossed the short distance between us conscious of the girl staring at my waggling erection. They must have come straight from home because she was wearing a see-thru shorty nightie and robe which were hitched up so I could see between her thighs. Her shaved pussy was impaled on his huge cock. Without anyone saying another word, she resumed working his shaft with her pussy. Her clearly visible breasts jiggled as she rhythmically bounced up and down. The guy's arms were around her waist and she moaned as he fingered her clitoris or reached up to play with her nipples. I dropped my jeans and briefs to my ankles and continued stroking. As always, the air on my naked skin felt wonderful. The girl alternated between looking me straight in the eye and watching my hand on my cock. "Let me do that for you", she said. I leaned forward, putting my cock and balls through the window. The feel of her hand on my shaft was electric. It jerked involuntarily. She stroked me slowly. I was inches away from her face and now and then the tip made contact with her face. "Why don't you suck him babes", the guy said. I leaned further in and she closed her mouth around my cock. It felt so good. "Oh that looks so sexy babes", the guy said. My balls were now close to his face. I could feel his heavy breathing on them. He reached up and cupped my balls. I felt them jump at his touch. It made me tingle. The girl sat still now as she concentrated on sucking me. The guy let go of my balls and putting his hands on the girl's waist jerked his hips as he slid his shaft in and out of her pussy. My cock felt swollen. It throbbed as the girl worked it, her tongue swirling around the head whilst her hand wanked the root. All three of us were breathing hard. I started to thrust forward as the desire to fuck her mouth was overwhelming. She must have felt a spasm because she pulled her mouth away just in time as I shot my load of spunk which spurted over her throat and ran down onto her breasts. She gripped my cock tightly in an automatic response as she and the guy also climaxed and squeezed out the last drops of my cum which dripped onto her shoulder and dribbled down her arm.